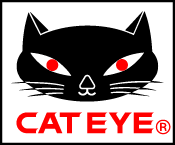 CATEYE PADRONE SMART
CATEYE STRADA SMART

Tire circumference setting
Pair a sensor that you want to use with smart computer.
• Pairing must be performed in order to use a sensor.
• Do not pair sensors at a race venue or in similar locations where there are many other users. Doing so may cause smart computer to be paired with another sensor.
• Perform pairing with all sensors and other devices that you want to connect.
• When using while connected to the Cateye Cycling™ app, perform pairing using Cateye Cycling™.
When the Cateye Cycling™ app is connected and there is pairing information in Cateye Cycling™, the information in the smart computer is replaced by the Cateye Cycling™ pairing information.
​

Smartphone : Pairing with a sensor
​
1. From the measurement screen, press MENU to switch to the menu screen.




Menu screen (Clock setting)
* When the menu screen is left on for 1 minute, smart computer returns to the measurement screen.
​
2. Press MODE to display the screen shown below, and then press MODE for 2 seconds.


​
3. Activate the sensor that you want to pair.
* For the CATEYE sensor signal activation procedure, refer to the sensor's online manual.

Ready for synchronization



The synchronized sensor is displayed on the top of the screen and pairing is completed.
• SP : Speed sensor
• ISC : Speed/cadence sensor
• CD : Cadence sensor
• HR : Heart rate sensor
• PW : Power sensor
* When pairing a sensor with a smart computer, a "C" is displayed after the sensor name.
When smart computer displays [FULL] on the screen and returns to the menu:
Up to 9 separate sensor IDs can be paired with smart computer. If the maximum number of sensors have been paired, with the computer in pairing standby state, press MENU for 4 seconds to clear all pairings.
* Pairing standby time is 5 minutes. Activate the sensor within this time.
​
4. Press MENU to confirm pairing.
If you want to continue pairing another sensor, repeat the same operations again.
Pressing MENU again returns to the measurement screen.
* If you have changed settings, always press MENU to confirm changes.