Smart computer can be used with sensors compatible with Bluetooth. Pair it with optional accessories or third party sensors as required.
• Perform pairing with all sensors and other devices that you want to connect.
• Third party sensor pairing information cannot be synchronized.
When measuring in Sensor Direct Mode, it is necessary to configure sensor settings separately via smart computer.
​

1. Switching to Sensor Direct Mode
​
1. If pairing with the smart computer was already performed, tap [Pair to Device] from the device screen.
* If the startup screen is displayed, begin the procedure from step 2.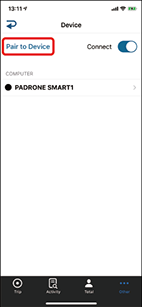 ​
2. Activate the sensor.
When Cateye Cycling™ detects the sensor signal, a message is displayed on the smartphone.
Tap [Pair]. The synchronized sensor is displayed on the [Device] screen and pairing is completed.
* For the CATEYE sensor signal activation procedure, refer to the sensor's online manual.
* When pairing a sensor with Cateye Cycling™, an "A" is displayed after the sensor name.
3. Set the tire circumference for a sensor capable of speed measurement.
* If you have not paired with a sensor capable of speed measurement, this step is not required.
Tap [Device], and then tap [(Sensor name)] > [Tire Circumference] (the length of the outer circumference of the tire).
Scroll to find the tire size indicated on the sidewall of the tire. Tap and hold to choose the tire size.
* Default value: 2,096 mm (700x23c)
* Set tire circumference for each sensor.
* You can also change the device name and delete pairing from this screen.
​

Accurately finding the tire circumference
Sensor pairing is now complete.
* If you want to pair another sensor, repeat the same procedure.