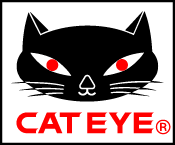 CATEYE PADRONE SMART
CATEYE STRADA SMART
Tire circumference setting
Set the tire circumference for a sensor capable of speed measurement.
​
1. From the measurement screen, press MENU to switch to the menu screen.




Menu screen (Clock setting)
* When the menu screen is left on for 1 minute, smart computer returns to the measurement screen.
​
2. Press MODE to display

(tire icon) and then press MODE for 2 seconds.


​
3. Select the sensor you want to set, and enter the tire circumference.
Enter the circumference in mm of the tire (the length of the outer circumference of the tire) on which the sensor is installed.
(Setting range: 0100 – 3999 mm)
​

Determining tire circumference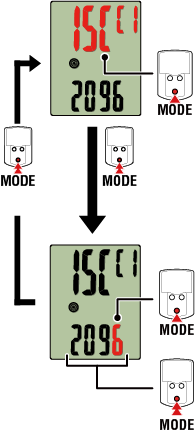 * Sensors that can be selected are those that have been paired with Cateye Cycling™ or a smart computer. The letter that appears after the sensor name indicates how the sensor was paired.
• A : Sensor paired with Cateye Cycling™
• C : Sensor paired with a smart computer
* Error is displayed if values outside the setting range are entered.
​
4. Press MENU to confirm settings.
Pressing MENU again returns to the measurement screen.
* If you have changed settings, always press MENU to confirm changes.
Switch top of screen display
Total distance manual input