GVOLT20 Rechargeable
An affordable, USB-chargeable StVZO headlight in a compact and lightweight design.
FEATURE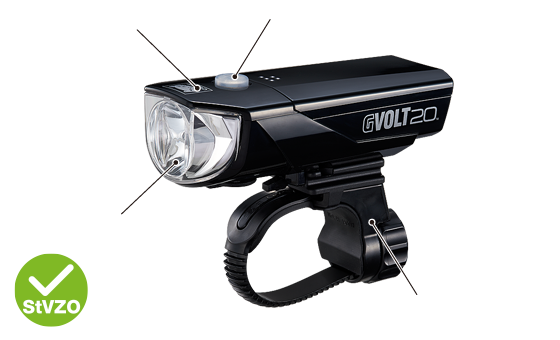 /

text
CLOSE

[HL-EL350G-RC]
20Lux rechargeable headlight meeting StVZO
Compatible with Alkaline battery
Regulated beam
Micro USB recharge
Battery indicator
2 light modes (High 3.5h / Low 9h) *Charging time: Approx. 4h
FlexTight™ H-34N bracket
※Design and specifications are subject to change without notice.
Beam Chart
You can compare two lights side by side. Move the centerline to the right or left to adjust the area. Click on mode button to change modes.
Tech Specs
Dimension:

41.0 x 91.0 x 36.5 mm
Weight:

103g (with batteries)
Run time:

High - 20Lux: approx 3.5hrs
Low - 10Lux: approx 9hrs
Battery:

AA Ni-MH 2.2Ah (GP220AAH) x 2
* AA Alkaline batteries can be used but runtime may vary considerably.
Recharge time:

approx 4 hrs (USB2.0 recharge)
Recharge/discharge number of times:

about 300 times(until the rated capacity drops to 70%)
Other:

K-No. 1187
Low battery indicator, lighting mode memory function.