GVOLT20
Battery-powered StVZO headlight in a compact and lightweight design.
FEATURE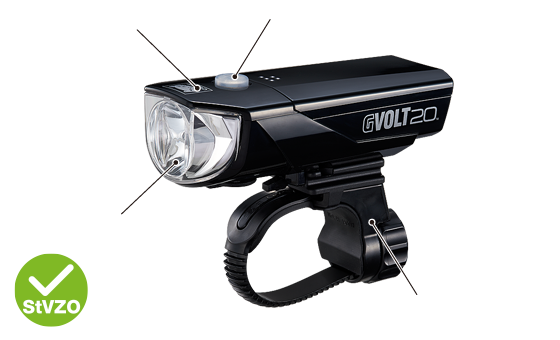 /

text
CLOSE

[HL-EL350G]
StVZO compliant 20Lux headlight
Compatible with AA rechargeable battery
Regulated beam
Battery indicator
2 light modes (High 2h / Low 7h)
FlexTight™ H-34N bracket
Das Gvolt20 Frontlicht hat eine 20 Lux Ausleuchtung und zwei Leuchtstufen. Am Lenker und am Helm montierbar, ist die GVolt20 kompakt und leicht entfernbar von der jeweiligen Halterung. So kann sie, am Ziel angekommen, abgenommen und verstaut werden, bis die Heimreise angesagt ist. Die clever designte Blende liefert eine exzellente Seitenausleuchtung.
※Design and specifications are subject to change without notice.
Tech Specs
Dimension:

41.0 x 91.0 x 36.5 mm
Weight:

91g (with batteries)
Run time:

High 20Lux: approx 2hrs * approx 4hrs with AA Ni-MH 2.2Ah (GP220AAH)
Low 10Lux: approx 7hrs * approx 9.5hrs with AA Ni-MH 2.2Ah (GP220AAH)
Battery:

AA Alkaline batteries x 2
* AA Ni-MH 2.2Ah (GP220AAH) can be used.
Other:

K-No. 1187
Low battery indicator, lighting mode memory function.