[ Before you purchase ] [ Updated Nov. 14, 2017 ]
Please check to see if your smartphone model is compatible.
Cateye Cycling Recommended Device/Email Program List
Smart technology meets our most popular display, the Padrone. Download the free CatEye Cycling app, stash your smartphone away safely in your jersey pocket or saddlebag and hit the road. Use Mirror Mode to get GPS-powered ride data, SMS (Text), call and email alerts from your phone displayed on the Padrone Smart's screen while your phone is kept safe from the elements in sleep mode, preserving the battery.
When carrying a phone isn't ideal, use Sensor Direct Mode to get speed, cadence, heart rate and power data directly from Bluetooth® Smart wireless sensors.
After use in either mode, seamlessly upload ride data to CatEyeAtlas™, Strava™ and TrainingPeaks™.



■ Upload Ride Data to training sites and share with the press of the button
■ View call/email/SMS (Text) alerts and ride data in real time on the Padrone Smart
■ Smart setup - Setup of the Padrone Smart, Customizable display and Clock auto adjustment
■ Import a summary of ride data in Sensor Direct Mode
* App can be used directly with smartphone.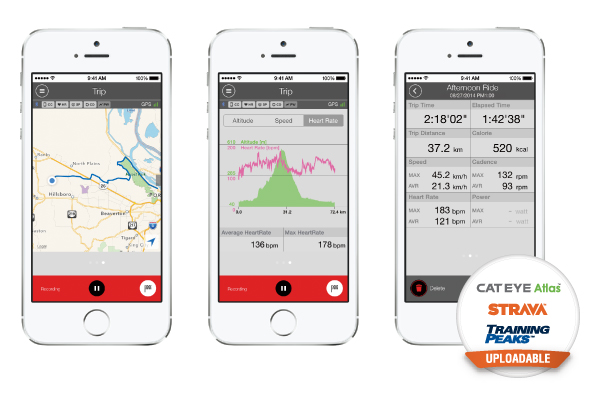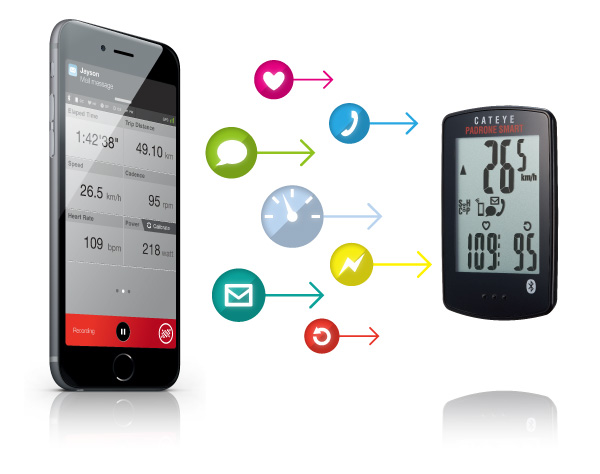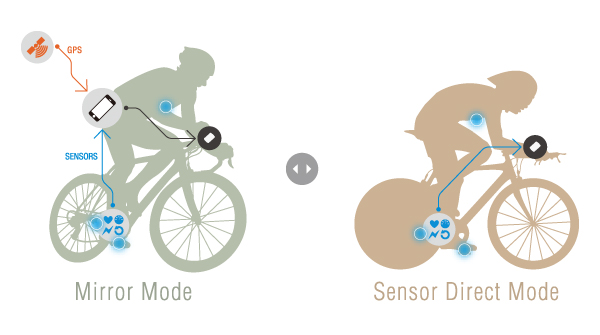 [ Mirror Mode ]
■ Data from smartphone is sent to the Padrone Smart where you can view it.
■ GPS signal to the smartphone measures Speed and Altitude.
■ Optional Bluetooth® SMART sensors record Speed, Cadence, Heart Rate and Power.
■ Displays Call/Email/SMS (Text) alert on the cycle computer.
| | | |
| --- | --- | --- |
| | | Connect the Padrone Smart with your smartphone. The Padrone Smart can be attached to the handlebar or stem. |
| | | |
| | | Set your smartphone into sleep mode, then put it in your pocket or a safe place and view the data on the Padrone Smart. |
| | | |
| | | Easily upload ride data directly to training sites with the tap of the button. |
[ Sensor Direct Mode ]
■ When smartphone use is not an option, such as in a race, the Padrone Smart syncs with Speed, Cadence, Heart Rate and Power Bluetooth® SMART sensors.
■ Post-ride data is sent to your smartphone.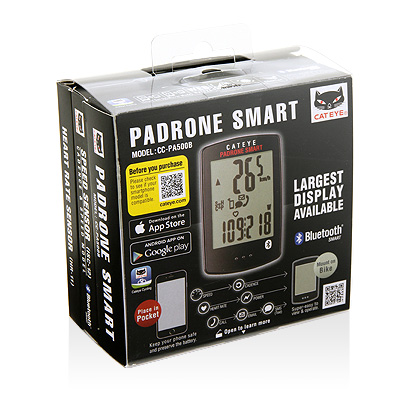 【PADRONE SMART TRIPLE WIRELESS KIT】
The triple bundle (Speed/Cadence and Heart Rate sensors included) is also available.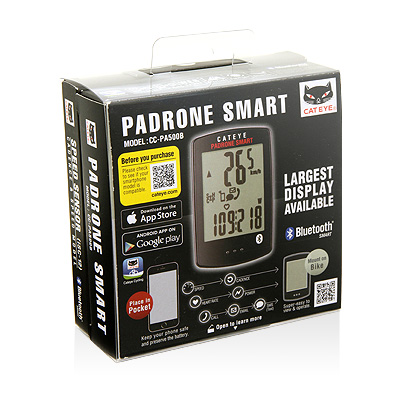 【PADRONE SMART DOUBLE WIRELESS KIT 】
The double bundle (Speed/Cadence sensor included) is also available.


*1-month free trial of Strava Premium Membership is limited time offer.
*Design and specifications are subject to change without notice.