​
Details displayed:
​

Data displayed at top of screen
Displays current speed.
* Can be changed to display heart rate or cadence.
​

Display settings for top of screen
​

Current function
Measured values change every time MODE is pressed.
* If the values flash on and off, it is time to replace the sensor battery.
• Speed/cadence/heart rate flash:
If using a CATEYE sensor, the values related to the sensor's battery replacement period start flashing to indicate that it is time to replace the battery.
* For the CATEYE sensor battery replacement procedure, refer to the sensor's online manual.
• Power values flash:
When using separate left and right power sensors, power values flash on and off to indicate that only signals from one sensor are being received.
​

Dot section (MODE button)
When the computer is mounted on the bracket, pressing the dot section depresses the MODE button.
​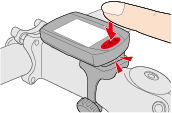 ​
Explanation of icons:
​

(Battery alarm)
Flashes when smart computer's remaining battery power is low.
When this icon flashes, replace batteries as soon as possible.
​

Battery replacement
​

(Memory alarm)
This information is required when syncing with a smartphone. Measurement is not affected if this icon turns on.
​


(Pace arrows)
Indicate whether the current speed is faster (

) or slower (

) than the average speed.
​
(Sensor signal icon)
Indicates the Bluetooth® sensor's signal reception status.
*1: With the speed/cadence (ISC) sensor, S and C are displayed simultaneously.
• Types of icons:
S (Speed signal) *1
Indicates the speed sensor signal.
C (Cadence signal) *1
Indicates the cadence sensor signal.
H (Heart rate signal)
Indicates the heart rate sensor signal.
P (Power signal)
Indicates the power sensor signal.
• Icon states:
Flashing
Signal being received
Off
No signal
​

(Tire size)
Displays the tire circumference during setup.
​

•

•

•

(Measurement unit)
Displays the currently selected measurement unit.
• On
Measurement stopped
• Flashing
Measurement in progress
​

(Average)
Indicates that the currently displayed value is an average value.
​

(Maximum)
Indicates that the currently displayed value is a maximum value.
Current function
Indicates the currently displayed function.
•

(Total Distance)
•

(Elapsed Time)
•

(Heart Rate)
•

(Trip Distance)
•

(Trip Distance 2)
•

(Current Speed)
•

(Cadence)
•

(Power)
•

(Clock)