VOLT6000
The most powerful class of headlight in our range.
FEATURE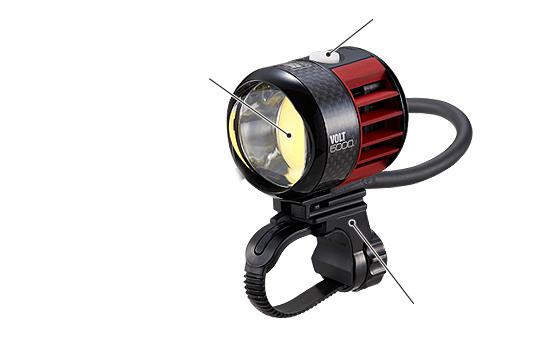 /

text
CLOSE

[HL-EL6000RC]
High power rechargeable headlight with ultra bright COB LED (6000 lm)
Super wide beam with OPTICUBE™ technology
Large capacity Lithium-ion battery
Universal battery charger included
Remote switch for easy button operation
CatEye own designed fan combined with control circuit provides regulated brightness
Low battery indicator
6 light modes *Charging time: 5h
Double click of the switch changes the light pattern from current mode to Dynamic mode
FlexTight™ bracket designed for VOLT6000
※Design and specifications are subject to change without notice.
Beam Chart
You can compare two lights side by side. Move the centerline to the right or left to adjust the area. Click on mode button to change modes.
Tech Specs
Dimension:

Light unit:47.0 x 59.0 x 52.0 mm
Control unit/battery unit:199.0 x 46.0 x 68.0 mm
Weight:

Light unit:118 grams (including the bracket and cable)
Control unit/battery unit:550 grams
Light source:

COB LED
Run time:

Dynamic mode 6000 lumens:1hr
High mode 4000 lumens:2hrs
Middle mode 2000 lumens:4hrs
Low mode 1000 lumens: 8hrs
All-Night mode 500 lumens:12hrs
Hyper Constant mode 2000/500 lumens:11hrs

Battery:

Battery unit:Li-ion rechargeable battery (14.4V-6800mAh)
Remote control switch:Lithium battery (CR1632) x 1 (approx 2-month battery life)
Recharge time:

approx 5hrs
Recharge/discharge number of times:

about 300 times (until the rated capacity drops to 60%)
Other:

Low battery indicator and mode memory function. Remote wireless switch, helmet mount and extension cable included.