PADRONE SMART
Our easy-to-view computer connects with your smartphone.
/

text
CLOSE

[CC-PA500B]
Smart technology meets our most popular display, the Padrone. Download the free Cateye Cycling app, stash your smartphone away safely in your jersey pocket or saddlebag and hit the road.
[ Before you purchase ]
Please check to see if your smartphone model is compatible.
Cateye Cycling™ Recommended Device List
Alert: Call *1, Email *1, SMS (Text) *1,2
Lap *1
Display:
Speed (Current / Average / Maximum)
Heart Rate, Cadence (Current / Average / Maximum)
Power (Current) Confirmed Power Sensor List
Distance (Trip Distance / Total Distance)
Clock
Time
Altitude (Current) *1
*1 Available in Mirror mode
*2 Available on Android
Smartphone app: Cateye Cycling™



View ride data and alerts on the computer
Upload ride data to CATEYE Atlas™, Strava™ and TrainingPeaks™
Set up the computer
Import a summary of ride data in Sensor Direct mode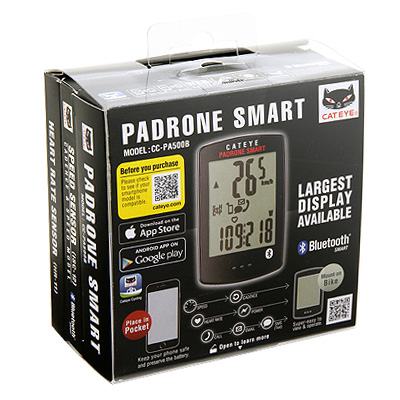 ■ Speed / Cadence + Heart Rate Sensor Kit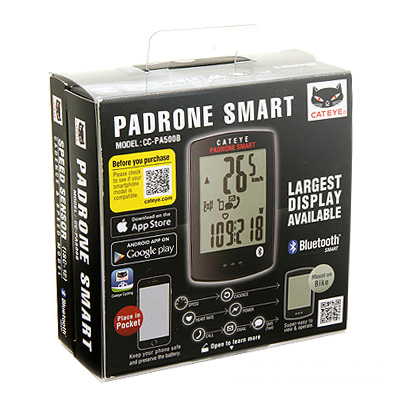 ■ Speed / Cadence Sensor Kit
※Design and specifications are subject to change without notice.
Tech Specs
Current speed:

0.0(4.0)~105.9km/h
Average speed:

0.0~105.9km/h
Maximum speed:

0.0(4.0)~105.9km/h
Total distance:

0.0~9999.9/10000-99999km
Trip distance 1:

0.00~999.99km
Trip distance 2:

0.00~999.99/1000.0~9999.9km
Elapsed time:

0:00'00"~9:59'59"
Current cadence:

0(20)~199rpm *1
Average cadence:

0~199rpm *1
Maximum cadence:

0(20)~199rpm *1
Current heart rate:

0(30)~199bpm *1
Average heart rate:

0~199bpm *1
Maximum heart rate:

0(30)~199bpm *1
Power:

0~9999watt *1
Wireless transmission:

Bluetooth®
Clock:

0:00'~23:59' [1:00'~12:59']
Pace arrow:

Yes
Auto power saving:

Yes
Auto mode:

Yes (Auto with Pause function)
Dual tire size:

Yes
Tire size:

100mm~3999mm (default:2096mm)
Compatible sensors:

CatEye brand ISC-12 Speed/Cadence sensor / HR-12 Heart Rate sensor / SPD-30 Speed sensor / CDC-30 Cadence sensor
* SPD-30 and CDC-30 sensors can be used in Mirror Mode only.
* Speed, Cadence, Heart Rate and/or Power sensors conforming to Bluetooth4.0
CSCP/HRP/CPP are supported but compatibility with third party devices is not
guaranteed. For Power, check the Confirmed Power Sensor List.
Battery:

CR2032 X1
Battery life:

Approx 4 months
Dimension:

67.5 X43.0 X15.6 mm
Weight:

30 grams
Note:

*1 Bluetooth® sensor is required.