/

text
CLOSE

[CC-PA400B]
Functions
Current / average / maximum speed
Current / average / maximum cadence
Current / average / maximum heart rate (optional)
Total distance
Trip distance 1 & 2
Moving time
Clock
Features
Large, 3-row screen with up to four data displays
Upgradable to triple wireless with the optional heart rate sensor
Compatible with Bluetooth® SMART sensors
Automatic sensor and tire recognition applicable to multiple bikes
ClickTec™ button interface
Auto start / stop
Pace arrow
Programmable display
Sensor battery alarm
Programmable odometer
Setup on menu screen or with smartphone app Cateye Cycling™
Import a summary of ride data and upload to websites via Cateye Cycling™ app
FlexTight™ universal bracket
[ Before you purchase ]
To setup the unit, import a summary and upload to websites with smartphone app, please check if your model is compatible with our app.
Cateye Cycling Recommended Device List
* The Padrone Digital is not the smart computer. Measurement and notification in Mirror mode is unavailable.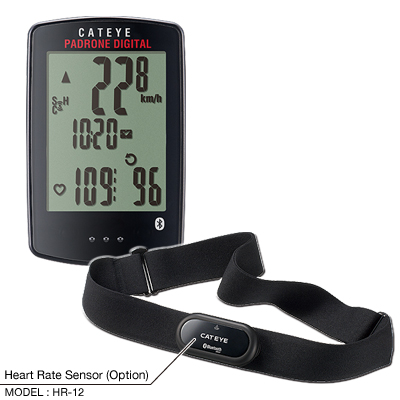 ※Design and specifications are subject to change without notice.
Tech Specs
Current speed:

0.0(4.0)~105.9km/h
Average speed:

0.0~105.9km/h
Maximum speed:

0.0(4.0)~105.9km/h
Total distance:

0.0~99999.9/100000-999999km
Trip distance 1:

0.00~999.99km
Trip distance 2:

0.00~9999.99/10000.0~99999.9km
Moving time:

0:00'00"~99:59'59"
Current cadence:

0(20)~255rpm
Average cadence:

0~255rpm
Maximum cadence:

0(20)~255rpm
Current heart rate:

0(30)~255bpm *1
Average heart rate:

0~255bpm *1
Maximum heart rate:

0(30)~255bpm *1
Wireless transmission:

Bluetooth® Smart
Clock:

0:00'~23:59' [1:00'~12:59']
Pace arrow:

Yes
Auto power saving:

Yes
Auto start/stop:

Yes
Auto sensor recognition:

Yes
Tire size:

100mm~3999mm (default:2096mm)
Compatible sensors:

CatEye brand HR-12 Heart Rate sensor
* Also works with other brand Speed, Cadence and/or Heart Rate sensors conforming to Bluetooth4.0 CSCP/HRP/CPP
Battery:

Computer: CR2032 x1, Speed sensor: CR2032 x1
Battery life:

Computer: Approx 4 months
Speed sensor: Approx 5 months
Dimension / Weight:

Computer:67.5 x 43 x 15.6mm / 30grams
Speed sensor:70.4 x 86.3 x 23.5mm / 19.2grams
Note:

*1 Bluetooth® SMART heart rate sensor is required.