VOLT400 DUPLEX
The power to see and be seen is all on your head.
FEATURE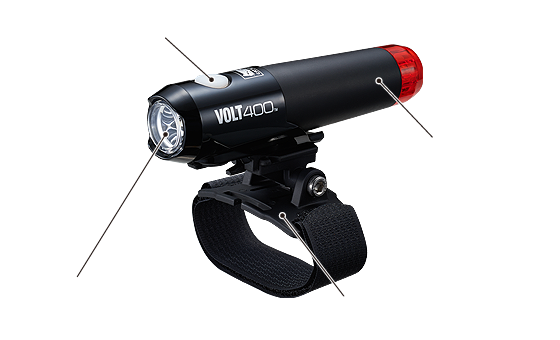 /

text
CLOSE

[HL-EL462RC-H]
The helmet mounted light Volt400 Duplex integrates both headlight and safety light all in one lightweight package can be one of the best visual defenses in busy city traffic.
Compact and lightweight high power rechargeable helmet light (Front: 400lm / Rear: 10lm)
Lithium-ion cartridge battery integrated with rear light
Round beam with OPTICUBE™ lens technology
USB rechargeable (Micro USB cable included)
Low battery indicator
Front: 5 light modes
Rear: 2 light modes
*Charging time 6h
Mode memory function
Helmet mount included
Cartridge battery compatible with VOLT800, VOLT700, VOLT400 and VOLT300
※Design and specifications are subject to change without notice.
Tech Specs
Dimension:

127 x 42.5 x 31 mm
Weight:

108.5 grams (light unit and battery)
Light source:

High intensity white LED x1, red LED x1
Run time:

(Front) * when the rear light is turned off.
High mode - 400 lumens: 3hrs
Middle mode - 100 lumens: 10hrs
Low mode - 50 lumens: 18hrs
Daytime HyperConstant mode - 400/50 lumens: 9hrs
Flashing mode - 50 lumens: 150hrs

(Rear) * when the front light is turned off.
Constant mode - 10 lumens: 35hrs
Flashing mode - 10 lumens: 300hrs

(Front / Rear) * when both lights are turned on.
High / Constant mode - 400/10 lumens: 3hrs
Flashing / Constant mode - 50/10 lumens: 30hrs

Battery:

Li-ion rechargeable battery (3.6V-2600mAh)
Recharge time:

Approx 6hrs (USB2.0 recharge), 4-5hrs via optional fast-charging cradle

Recharge/discharge number of times:

About 300 times(until the rated capacity drops to 70%)
Other:

Low battery indicator, lighting mode memory function. Helmet mount included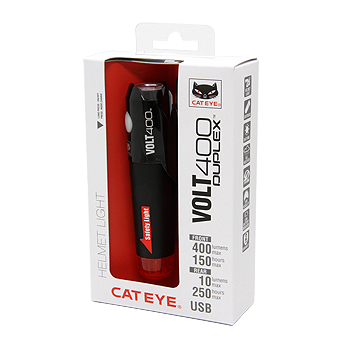 Manual