AMPP100 & ViZ100 & VELO WIRELESS
COMBO KIT
/

text
CLOSE

[GS-22]
[AMPP100]
The AMPP100 is an eco-friendly rechargeable 100 lumen light. It's lightweight and compact build makes it an ideal choice for all riders.
Compact rechargeable headlight (100 lm)
Easy to attach and remove, new rubber strap mount
Excellent side visibility
Low battery indicator
USB rechargeable (Micro-USB cable included)
Mode memory function
Two light modes (Constant / Flashing)
[ViZ100]
Compact and versatile, the ViZ100 stands out with Daytime Hyperflash™ mode in an economical package.
3 LEDs (100 lm)
Highly visible during daytime
300 degree visibility
Long rear beam projection

OptiCube™ lens technology

Lithium-ion rechargeable battery
USB rechargeable
Low battery indicator
4 modes *Charging time: 3h
Mode memory function
Battery Auto Save (The mode automatically changes to flashing when the battery power gets low.)
New seat post bracket SP-15 which fits contemporary (kammtail) aero seatpost
Snap System™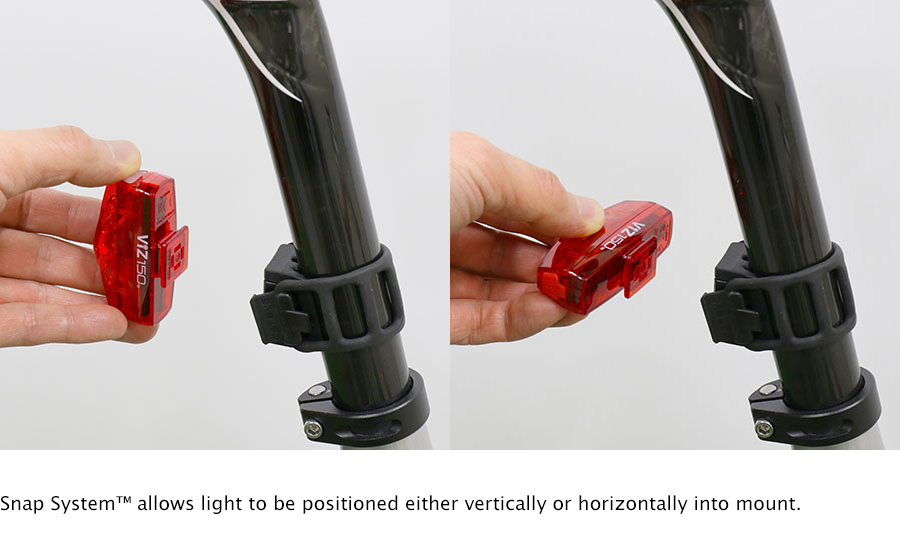 [Velo Wireless]
The Velo Wireless now packs even more punch with a programmable odometer and menu screen. Installs easily on almost any bike, including 27.5 and 29'ers.
Functions
Current / average / maximum speed
Trip distance
Total distance
Elapsed time
Clock
Calorie consumption
Features
Analog wireless
Pace arrow
Simple tire size
Auto start / stop
Programmable odometer
Menu screen to change setting
Zip tie bracket
※Design and specifications are subject to change without notice.
Tech Specs
Dimension:

[AMPP100] 86 x 35 x 33mm (excluding the rubber strap)
[ViZ100] 62.5 x 21.0 x 32.5mm
Weight:

[AMPP100] 62 g (light unit and battery)
[ViZ100] 22 g (with batteries)
Light source:

[AMPP100] High intensity white LED X1
[ViZ100] Red LED X3
Run time:

[AMPP100]
Constant mode 100 lumens:approx 3.5hrs
Flashing mode 100 lumens:approx 35hrs

[ViZ100]
Constant (15 lumens):5hrs
Flashing (10 lumens):70hrs
Group Ride (35 lumens):11hrs
Daytime Hyperflash (100 lumens):15hrs
Battery:

[AMPP100] Li-ion rechargeable battery (3.7V-800mAh)
[ViZ100] Li-ion rechargeable battery (3.7V-500mAh)
Recharge time:

[AMPP100] approx 2.5hrs (0.5A)
[ViZ100] approx 3hrs (0.5A)
Mount size:

[AMPP100] φ22.0~35.0mm
[ViZ100] φ21.5-32.0mm. Fits up to 130mm outer circumference. (SP-15)
Recharge/discharge number of times:

about 300 times(until the rated capacity drops to 70%)
Water resistant:

[AMPP100] IPX4
[ViZ100] IPX4
Other:

[AMPP100]
Low battery indicator, Light mode memory

[ViZ100]
Battery auto save, Low battery indicator, Light mode memory
:
[Velo Wireless] Current speed:

0.0(4.0)~105.9 km/h [0.0 (3.0) - 65.9 mph]
[Velo Wireless] Elapsed time:

0:00'00"~9:59'59"
[Velo Wireless] Trip distance:

0.00~999.99 km [mile]
[Velo Wireless] Maximum speed:

0.0(4.0)~105.9 km/h [0.0(3.0) - 65.9 mph]
[Velo Wireless] Calorie consumption:

0 ~99999 kcal
[Velo Wireless] Total distance (Odometer):

0~99999 km [mile]
[Velo Wireless] Clock:

0:00~23:59 [1:00~12:59]
[Velo Wireless] Pace arrow:

Yes
[Velo Wireless] Auto power saving:

Yes
[Velo Wireless] Auto start/stop:

Yes
[Velo Wireless] Odometer manual set:

Yes
[Velo Wireless] Wireless transmission:

Speed [Analog sensor]
[Velo Wireless] Tire size:

26", 700c, 27", 27.5", 29", 16", 18", 20", 22", 24" or 100cm〜299cm (default:26")
[Velo Wireless] Battery:

Computer: CR2032 x1 Sensor: CR2032 x1
[Velo Wireless] Battery life:

Computer:approx 1 year (1hr use per day) Sensor:approx 10,000 km [6,250 miles] in total distance
[Velo Wireless] Dimension:

55.5 X 37.0 X 16.5 mm
[Velo Wireless] Weight:

approx 26.4 g
[Velo Wireless] Water resistant:

IPX8