Try the following methods if pairing cannot be performed using the procedure in "Pairing with smart computer".
​Smart computer
1. On the measurement screen, press MODE for 1 second to display the smartphone search screen.
​Smartphone searchscreen

​Smartphone
2. On the smartphone, tap [Bluetooth] under [Settings].
If [Bluetooth] is turned OFF, turn it ON.
[CA:##:##:##:##:##] will be displayed if the smart computer is detected.
Tapping will cause [CC-SC100B] to be displayed as the device name.
3. Launch Cateye Cycling™.
4. From

(MENU) at the top left of the screen, turn on [Connect] and tap [Device].
​
Tap [Pair to Device] to start pairing.
When Cateye Cycling™ detects smart computer, a message is displayed on the smartphone.
​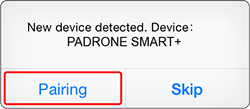 Tap [Pairing] to complete pairing.